We repair garage door springs in the Conroe area in Texas and help our residential clients quickly. Every professional at our Garage Door Repair Conroe is qualified to fix residential garage springs but local customers can also depend on us for their spring installation, replacement and adjustment needs. Want fast spring replacement? Need help with your torsion spring urgently? Count on the fast assistance of our technicians and the great results of our garage door springs repair Conroe services.
Broken garage door spring? We replace it quickly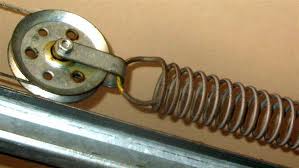 Overhead door owners might know the importance of garage door spring repair services. If springs break, the door slides down. If it is shut, it won't open. The job of springs is to lift the door, keep it open and lower it down with safety. If they fail to do so, please allow us to fix the problem. Snapped springs can be extremely dangerous. That's why homeowners in Conroe should trust all spring services to the experienced technicians of our company. There are several spring models used in residential doors in Texas and you can rest assured that we can service every one of them and both torsion and extension springs.
Whether you own extension or torsion springs, they both need adjustments. Galvanized springs need maintenance even more frequently. With our Conroe garage door springs repair and adjustment services, we make sure the door is balanced and the springs ready to open and close the door. Our professionals can also lubricate springs, replace the torsion spring cones and install extension spring safety cables. All garage door spring replacement and installation services are done quickly and even faster if your needs are urgent.
Is there need for immediate broken spring repair? Broken springs are replaced as fast as possible. Are your springs noisy, rusty or old? Our technicians can check their condition and give you an honest evaluation. We can help you with any problem, offer fast torsion spring repair and take care of the overall spring system to ensure safe door operation. Get in touch with our company in Conroe, Texas, for your spring needs.