Openers are the main components of electric garage systems. Any problem will render the automatic operation useless or risky. That's why we provide electric garage door opener repair as soon as possible. We replace, maintain, and fix all types of openers and guarantee expert work whether you have Genie, Craftsman, Liftmaster or other brands. But these systems consist of many more parts and their good condition is equally important. At our company, we can repair your electric garage door in Conroe from top to bottom and can offer any service requested.
Our techs are experts in opener repairs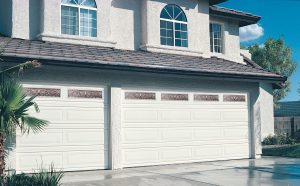 Count on Garage Door Repair Conroe to help you out during times of need. Electric openers might stop working or have other complications, which might make the door unsafe. Call us if the door is not opening or closing fully. No matter what the symptom is, our techs utilize their skills to detect problems and fix them. Call us to provide any electric door opener service for you. Want clicker replacement? Need to replace the existing opener? Looking for a tech to fix the sensors? Call us to fix your opener in Conroe, Texas.
We provide fast garage door repair services
Snapped cables? Bent tracks? Broken springs? Get in touch with our company every time you need professional service. Our electric garage door repair services include fixing any other part, which might compromise the proper performance of the door or put strain on the opener. With our vans equipped fully, every tech from our team is able to replace damaged components and make adjustments on the spot. We will do any repair work necessary to fix your door and ensure opener functionality and thus your safety.
Call us to install a new electric garage door in Conroe
Want to upgrade security at your property with a new electric garage door installation? Let us help you with that. No matter which door and opener you need, our company can provide any branded product. We are available to offer a free estimate, answer your questions, and install the new door for you. Our entire team is here to take care of any concern and need related to your Conroe electric garage door. Call us.